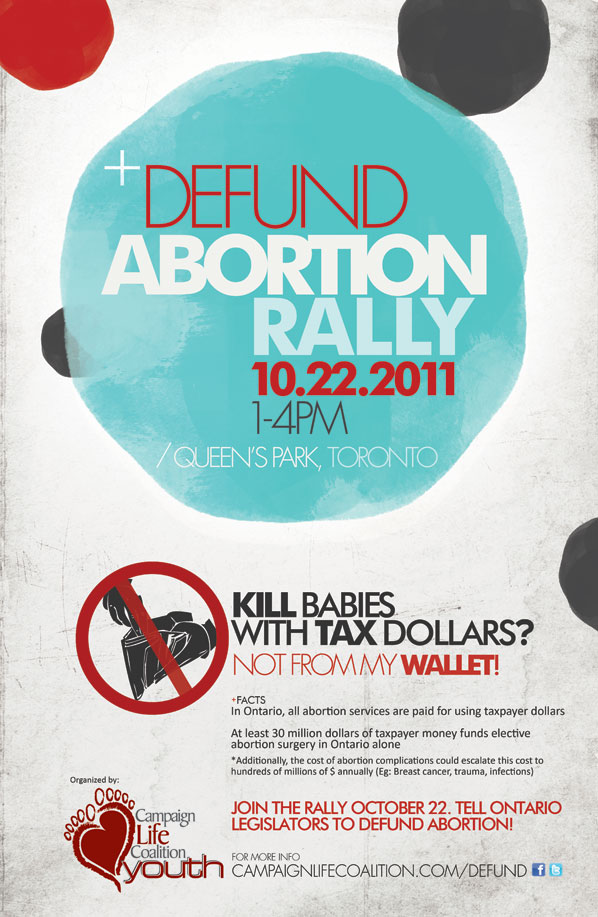 Join us on Saturday, October 22nd, 2011 at Queens Park to tell our newly elected provincial government to stop using our hard-earned tax dollars to fund the killing of innocent preborn children.
Campaign Life Coalition Youth holds the position that government-funded abortions are a blatant abuse of tax dollars, are severely unjust, and that these funds can and MUST be directed away from the killing of our preborn children. This is an issue that should be held close to the hearts of young people in particular. We did not have a choice to stand-up against the Morgentaler decision, but we have a choice now. Let's use it. We are the survivors and it's our job to speak up for those who cannot speak for themselves. Join us.
Excerpts from the Canadian Physicians for Life stance on de-funding of abortion:
"Abortion is not an essential medical service. It is designated "medically necessary" for purely social and political, not medical, reasons. Pregnancy is not an "injury, illness or disease." There is no proof that abortion improves health. In fact it disrupts a normal physiological process, poses a risk to the mother, and ends the life of her developing child. There is no "medical necessity" where no medical benefit or health risk exists."
"To justify funding of a service, the medical necessity and therapeutic value of that service should be undisputed. "
"If the federal government had any confidence that a majority of Canadians wish to see abortion funded by the taxpayer, it could easily prove so in a referendum. Without such a democratic affirmation of national support for free abortions, the government should at least respect the diversity of provincial government approaches to abortion funding. "
Statistical Evidence:
Abortions in Ontario per year: 32,000 (Canadian Institute for Health Information) to 51,000 (Source: Project for an Ontario Women's Health Evidence-Based Report (POWER)
Average cost of an abortion: $1000 (Joyce Arthur, Pro-Choice Action Network)
Annual cost of abortions (excluding complications): 32,000 x 1,000 = <$32 M to $51M
· In recent years, Statistics Canada deemed abortion data "unreliable" because too few clinics and hospitals reported. They even noted the absence of abortion data was "definitely a concern."
· More recently, the Canadian Institute for Health Information (CIHI) took over responsibility for abortion statistics. Their report for 2007 and 2008, released last December, is riddled with categories labeled "unknown" because so few hospitals and clinics submit complete data.
· By comparison, the new POWER study uses OHIP billing records and several different databases, making it more reliable than other recent data. This may account for a large discrepancy between the study's and CIHI's figures.
· Campaign Life Coalition Youth used the minimum amount of abortion costs in Ontario given this statistical data, when in fact, this is an extremely conservative estimate.
Sources: (Bowles, Anastasia, National Post, March 7, 2011, Abortion Statistics Show Reality of a Land Without Restrictions)
(Canadian Institute for Health Information, 2008, Number of Induced Abortions Performed in Canada† in 2008, by Province/Territory of Report)
(Arhur, Joyce, The Pro-Choice Action Network, 2002, Abortion Clinics Are Better and More Cost-Effective Than Hospitals)